Silicone, Translucent, Durometer 35
With its incredible 880% elongation, Steinbach's 1mm thick, durometer 35 translucent silicone has proven its usefulness for forming around highly complex profiles. Used for RTM applications as well as debulking, laminating, and thermal-forming – try this versatile material for your next project!
Back To Composites
View All Products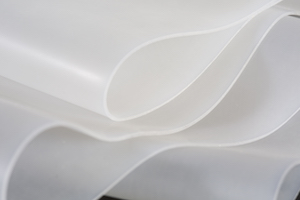 Product Details
Silicone, Translucent, Durometer 35
1mm thick, both sides smooth
Technical Data
Compound:

CM 35-S

Durometer:

35° +/- 5°

Elongation:

> 880%

Tensile Strength:

> 2030 psi

Max. Seamless Width:

3000 mm

Max Temperature:

200°C / 392°F
Looking for More Information?
Check out our Resources or Contact Us